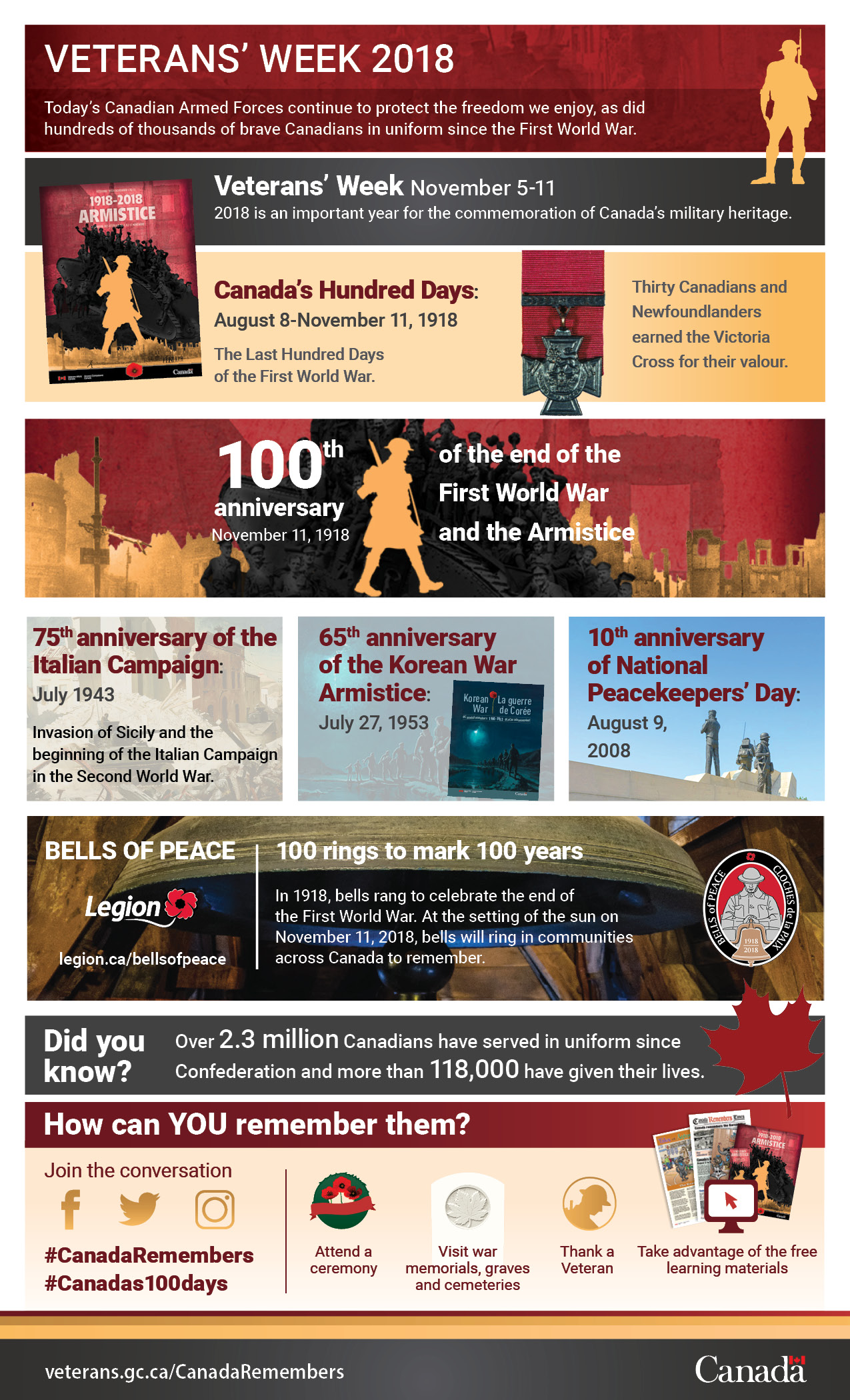 Veterans' Week, November 5-11
This year marks numerous significant events in our country's military history, including the 100th anniversary of Canada's Hundred Days and the centennial of the Armistice that ended the First World War on November 11, 1918.
More than 650,000 Canadians and Newfoundlanders served during the First World War, with more than 66,000 giving their lives and more than 172,000 being wounded. The dedication and sacrifice shown by Canadians throughout the war earned our country a separate signature on the peace treaty that officially ended the conflict.
There are other important anniversaries to remember in 2018. This year marks the 65th anniversary of the Korean War Armistice, the 10th anniversary of National Peacekeepers' Day, and the 75th anniversary of the invasion of Sicily and the beginning of the Italian Campaign during the Second World War.
As Canadians, let us each keep their legacy and memory alive today, and every day, for generations to come.
To show how #CanadaRemembers, you can:
• visit a cenotaph or war memorial.
• wear a poppy over your heart with pride.
• contact a local Veterans' association or the Memory Project and invite a Veteran guest speaker to your class or organization.
• join the conversation on social media by using the hashtags #CanadaRemembers and #Canadas100Days, or visit veterans.gc.ca/CanadaRemembers• visit veterans.gc.ca/CanadaRemembers to send a personal message to Veterans and Canadian Armed Forces members, hear Veterans' stories, check out the Calendar of Events or obtain free remembrance learning materials.
Visit veterans.gc.ca/CanadaRemembers to learn more about Veterans' Week. The Government of Canada has improved the services and benefits offered to Veterans, their caregivers and their families. Learn how we can help at veterans.gc.ca/services or
Additional Resources
Veterans Affairs Canada Benefits and Services
Last Hundred Days Factsheet