Justin Trudeau's NAFTA Failure Will Cost Canadians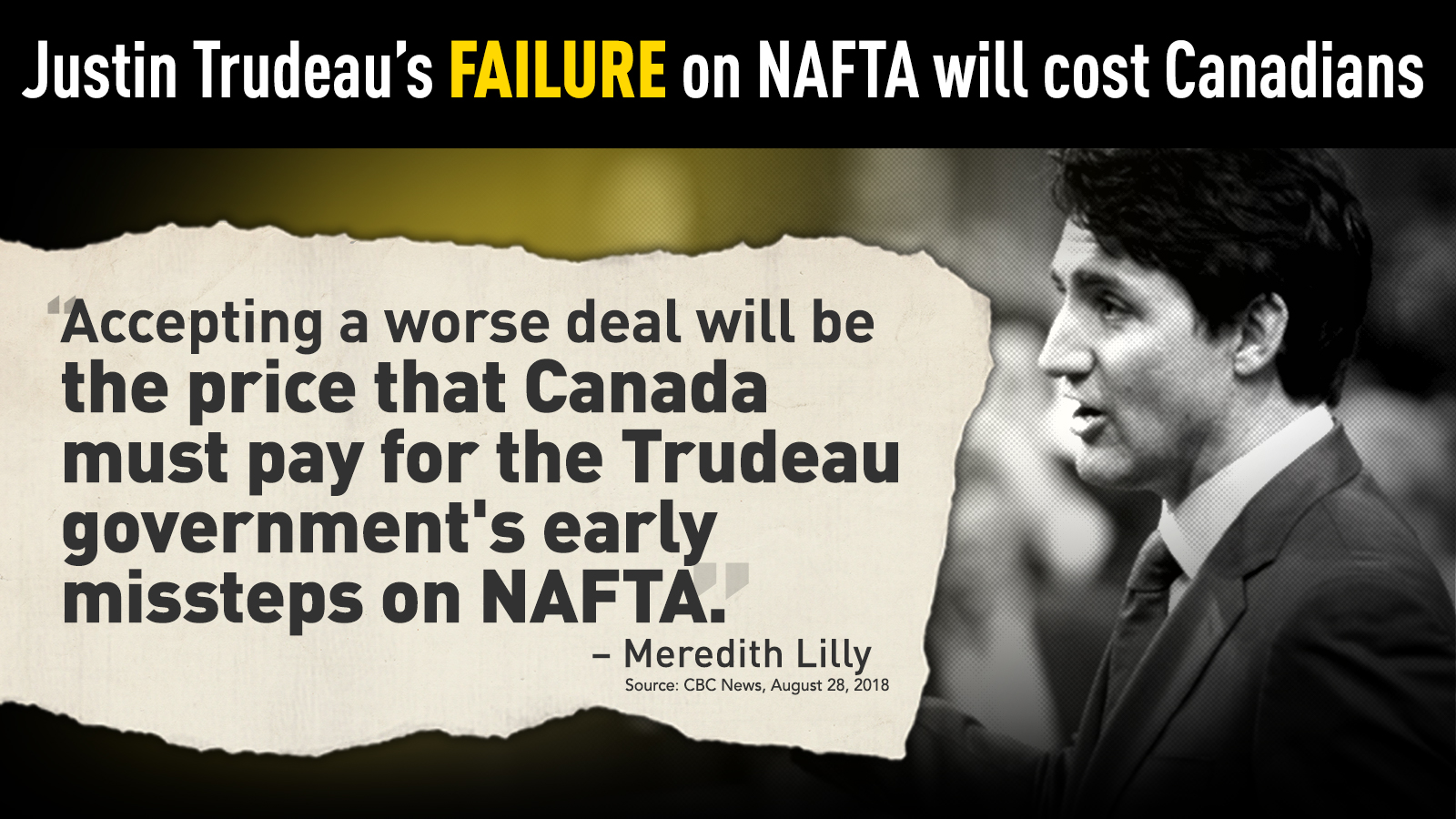 Here are Andrew Scheer's comments on Justin Trudeau's NAFTA failure.
Two and half years ago, when the Prime Minister volunteered to renegotiate NAFTA, he promised Canadians he would secure a better deal. So let's review how we got here, because the Prime Minister's strategy was doomed from the very beginning: In his very first discussion with the President-elect on election night, the Prime Minister told Donald Trump that he was "more than happy" to start NAFTA negotiations, with no pre-conditions. Rather than aiming for a few quick tweaks and minimal disruption as other countries like South Korea did with their agreements with the Americans, the Prime Minister sought a complete renegotiation. The Prime Minister kicked off his negotiating strategy by highlighting his so-called progressive trade agenda, insisting the new NAFTA should conform to a series of conditions that have nothing whatsoever to do with trade. In short order, Canada found itself on the outside looking in, while Mexico and the United States hammered out a deal. Canada would only be brought in at the end.
What a failure. The Prime Minister promised NAFTA 2.0. Canada got NAFTA 0.5. As a result of the new deal:
– Automakers are limited in how many cars they can export to the United States.
– Canadians will have reduced access to essential medicines and will have to pay higher prices for prescription drugs.
– The U.S. now holds unprecedented influence over our future negotiations with new potential trading partners.
Contrary to the Prime Minister's lofty promises at the outset, there is quite literally nothing about this deal that is better than the one before it. The Prime Minister's only so-called victories from the negotiations are provisions that were already in place. The United States measured their success on NAFTA by what it gained. The Prime Minister measured his on what he didn't give up. And let's remember he agreed to this with steel and aluminum tariffs still in place
Which brings me to the Prime Minister's final humiliation on this deal – the removal of the steel and aluminum tariffs. Now, of course Conservatives are pleased that the tariffs were removed. I've met steel workers who were struggling and I know that we had seen layoffs. But the deal is far from the quote "pure good news" the Prime Minister has been selling it as. It is, in fact, not as advertised. "Don't bask in the glory of this one," is how Leo Gerard, the President of the United Steelworkers Union described it. But that is exactly what the Prime Minister is doing. The deal allows Donald Trump to re-impose steel and aluminum tariffs if there is a quote "meaningful" surge of imports above historic levels. Who defines what meaningful is? Donald Trump. It gets worse. The deal prevents Canada from responding with retaliatory tariffs that target key US industries – the best piece of leverage we have.
Why would anyone take that risk? We know the Prime Minister is desperate for anything he can point to as a win. And so he's pulled out all the stops to celebrate this new NAFTA as a big victory. But it's not as advertised. And neither is this Prime Minister. Mr. Speaker, the Prime Minister had a once-in-a-generation opportunity to negotiate a better deal – and he failed. He gave Donald Trump everything he wanted and more. But this is the deal we are stuck with. And contrary to the Prime Minister's favourite talking point during negotiations, no trade deal with the United States *is* worse than a bad trade deal.
So Conservatives will reluctantly support it. But after October 21, our new government will work to mitigate the damage this deal has caused. We will address things like the lingering softwood lumber dispute, the remaining Buy American provisions, the disjointed regulatory regimes, and the difficulties with crossborder business travel. We will negotiate with the US from a position of strength, by emphasizing security and defence cooperation and by imposing safeguards to protect North American steel from Chinese dumping.
May 29, 2019