Remembering Dieppe – 75th Anniversary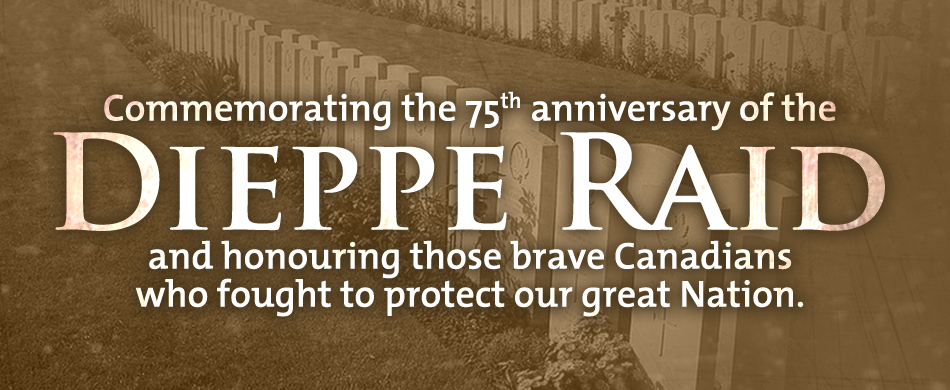 August 19, 2017, will mark the 75th anniversary of the Dieppe Raid. Those who lost their lives will be commemorated at events in Canada and in France.
The Dieppe Raid was particularly devastating to the Canadian military. Of the almost 5,000 Canadians who embarked on the mission, only approximately 2,200 returned and many of those had been wounded. More than 3,350 Canadians became casualties, including more than 900 who lost their lives and some 1,950 who were captured and became prisoners of war.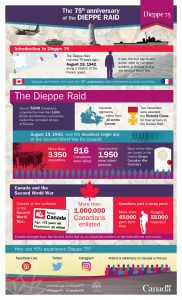 The Canadians who fought in the Dieppe Raid sacrificed greatly in their efforts to try to help bring peace and freedom to the people of Europe. Their task was a very difficult and costly one. Canada's history is best told through the stories of the men and women who lived it. By recognizing and honouring the extraordinary service and sacrifice witnessed 75 years ago, we will keep the memory of Canada's Second World War experience alive for generations to come.
The Government of Canada invites Canadians to join in honouring those who took part in the Dieppe Raid by sharing your thoughts, photos, or special memories of loved ones on social media. Tag your posts with #Dieppe75. Another hashtag that can be used is #RememberThem.
There are countless ways to express your gratitude and appreciation in remembering the sacrifices and bravery shown by Canadian men and women in uniform throughout the Second World War. Find out how you can remember them at veterans.gc.ca/veterans.gc.ca/Dieppe75
LINKS