As we get ready to celebrate Canada's 150 birthday, I am reminded of how lucky I am to call Canada my home. I have been blessed with many privileges in life, many of which I can attribute to my country roots: a safe place to live and raise my family, an abundance of resources, and the opportunity for a successful career in agriculture.
I have been fortunate to have travelled to countries both for mission work and as part of my parliamentary duties. During these trips, I have toured farms, visited sustainable projects and met business and political leaders. No matter where I go, Canada and our flag are recognized and respected around the world.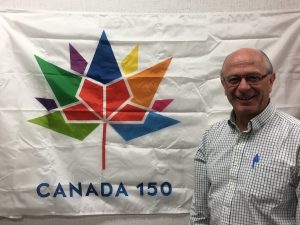 To celebrate our great nation's 150th, I am having a contest open to all residents of Lambton-Kent-Middlesex. To enter, simply tell me in 250 words or less what Canada means to you. One lucky person will be drawn at random to win a full-size, Canada 150 commemorative flag.
Email your submission to bev.shipley.c1d@parl.gc.ca or send to my office at 380 Albert Street, Strathroy, ON N7G 1W7. Be sure to include your full name, address, and a phone number.
The draw will take place on June 8, 2017.
Good luck!